Currently, it is no longer so necessary to hire presenters to appear in your videos explaining or talking about a specific topic, since with Elai.io and its artificial intelligence technology you can place or customize any of their avatars, which will do everything presentation just the way you want it.
If you want to know more about this powerful online program, then continue reading and you will see how interesting Elai.io is.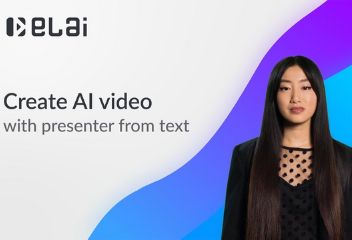 What is Elai io?
Elai.io is one of the many companies today that has taken the advancement of technology in its own way, it is a company that is highly specialized in the world of artificial intelligence technology. It is oriented in a general way to the needs of users in the field of audiovisual design.
It should be noted that Elai.io is not something new in the market with AI systems and technology, since since its inception it has used said technology with the purpose of greatly facilitating the lives of those users who need original, professional and high-quality content. , offering the following services.
Creation of audiovisual content at a fair price as quickly as possible.
A high range of human presenters for your videos or the possibility of creating it in a personalized way.
More than 60 languages available for your presentations.
In a few words, with Elai.io you can create videos from any text using artificial intelligence, place transitions and use fully customizable avatars, without the need to introduce yourself in the video or hire a presenter, because with Elai.io you can do it, you just have to choose within your AI human presenter library .
How does Elai io work?
How Elai.io works is a very common question when we talk about programs that use artificial intelligence and not everyone knows in a certain way what really happens when we use this technology, the function of Elai.io is quite complex, however, In the eyes of the client, everything is so simple, just register, write on the slides, choose an avatar, background and that's it, you already have a video with a personalized avatar.
On the other hand, although it looks very simple, it is not, since a large number of programming lines are needed for the system to identify all the words and also to be able to translate them into more than the 60 available languages that Elai.io has, Not to mention the high-quality expressions added to the avatars.
How to create videos with Elai?
Creating a video in Elai.io is very simple, it will only take you a few minutes to do it and find in it a unique and incomparable quality of work, the first thing you should do is Sign up on the official page of Elai.io, then, as well as the well-known PowerPoint add text, shapes, images, and animations to slides.
Once you've added text, shapes, and more, you can also add professional Elai.io backgrounds, as well as audio if needed. Once everything is done, you just have to choose the presenter or create it using the Ellai.io tools to continue making it ready and see how your slides are transformed into a video with an animated presenter.
It is noteworthy that the videos created under this platform can be saved in multiple formats so that they can be played on any device.
Elai.io Price
The price to pay for the use of this platform can be very varied according to the need you have, since they allow you to adjust the prices according to the requirements that you add to the order without any problem, even so, it also has 3 plans which we list for you next.
Free plan. This has only 5 minutes of narration by the available avatars.
Basic plan. This for an amount of 29 USD per month, you can create 15 minute videos .
Advanced plan. For an amount of 99 USD per month, you will be able to create 50 minute videos.
All have availability of 23 avatars , more than 60 languages and also videos in high resolution (1080p).
Elai.io Reviews
Obviously, Elai.io is one of the best programs to make videos making full use of artificial intelligence technology, in addition to being one of the few available, it is one of the best platforms for this purpose.
In social networks you will be able to notice the degree of popularity of Elai.io, since there are many positive opinions and recommendations towards the platform.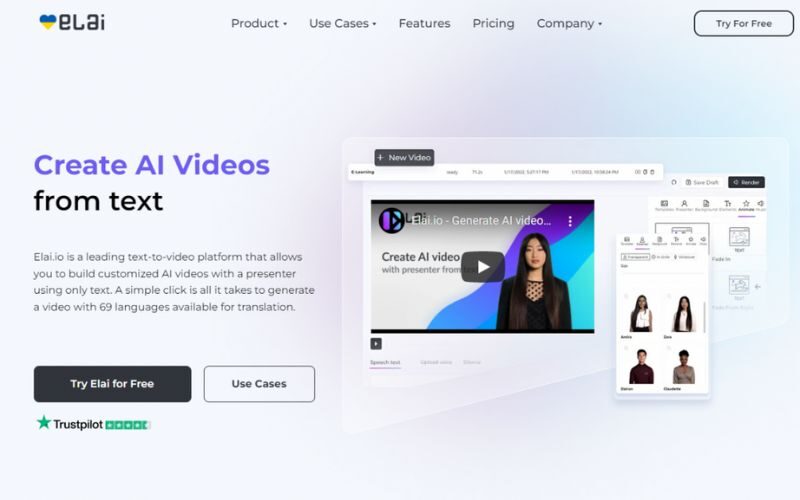 Alternatives to Elai
As you already know, there are not many systems, platforms or programs that can achieve as much quality in AI videos as Elai.io does, however, even so, there are really good alternatives that you should know about and we will list them below.
Invideo
It is one of the best options when it comes to creating, editing, and sharing videos, thanks to the fact that its online services offer totally professional tools, as well as a wide variety of templates and royalty-free content to use in your presentations and projects.
Talking Avatar
It is a web-based tool with which you can create an avatar capable of narrating all the content you want. Want to narrate a video, but don't want to be in it? With  Talking Avatar, you can do it in a few simple steps and without needing to be an AI expert.
Colossyan
Although it is a relatively new platform, it provides a variety of tools for creating high-quality videos from text with digital presenters. All this thanks to the artificial intelligence they use to generate these videos. This platform is characterized by turning PDF files into videos, with background music, presenters and much more.