A few years ago you could see on the internet many portals, web pages, blogs among other media with a large amount of information and written content that in the long run very few people read because it is a very extensive content.
Today, all these ways of transmitting content have been evolving thanks to technology, many institutions and people dedicated to finding a way to display some information more clearly and precisely.
One way to avoid having a web page or blog with extensive and tedious written content is to use audiovisual content. Unfortunately, developing this type of content is not that easy and much less economical. In view of this limitation, GliaCloud has been created, a fairly complete software with artificial intelligence with the purpose of creating informative videos based on a previously analyzed text, in short, converting the text to a video.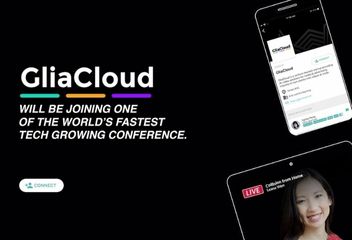 What is GliaCloud?
GliaCloud is a software from the Taiwanese company, developed in a very simple way, but with great potential, because with just a few clicks you can convert a boring and tedious text to great audiovisual content with excellent quality.
Since its foundation in 2015, it has been updating its functionality to the point that today, just by having an idea of ​​what you want and a few clicks, you will have a video with many images and very striking transitions, as well as a female voice that, without a doubt, something will catch the user's attention.
How does Gliacloud work?
The functionality of this program is a bit complicated internally, that is, all those processes that are executed that the end user cannot see, but if we start to see the same situation on the part of the user, you will find a process that takes a few minutes to generate a video where the text is narrated from supplied content.
In other words, you place a text and the program will take care of analyzing said text and converting it into content with images, texts and narration. It should be noted that this service is not free, however, it is one of the cheapest services compared to other programs with the same functionality.
Now converting a text into audiovisual content will not be a job that requires many hours of dedication, thanks to GliaCloud creating these videos for your social networks, blog or web page will not be complicated at all.
How to create videos with GliaCloud?
Creating videos with GliaCloud is very easy, you just have to bring or link the text to which you want to make the video, upload images and the rest will be done by artificial intelligence. Another way is that you must select relevant text or words from the text and from those words the program will analyze and integrate images to create the video, as well as a female voice that will narrate the entire video.
GliaCloud price
GliaCloud, as we have already mentioned before, is not free, however, its prices are not so high for all the work that you save by using it, without a doubt, when you see the ease of use and all the work that it facilitates, you will not see such an expensive investment to pay for your package.
Pro Package. 350 USD per month.
Business Package. $550 per month.
Enterprise Package. Custom price.
It should be noted that each of the aforementioned packages have their own features and limitations, however, they are all excellent in terms of quality.
GliaCloud Reviews
As for the opinions that you can find about GliaCloud, they are very varied, however, they all agree that, despite being a fairly simple program, the quality of the videos is quite good, even though it is not better than the same created by the media.
If what you want is to take that text to videos and you do not have a high enough budget to cover the demands of the work, then using artificial intelligence with GliaCloud is one of the best options you will have.
Alternatives to GliaCloud
Obviously, thanks to the advancement of technology and artificial intelligence, GliaCloud is not the only program that performs such a function, so you will be able to see many quite good alternatives that are also worth knowing.
Colossyan
Although it is a relatively new platform, it provides a variety of tools for creating high-quality videos from text with digital presenters. All this thanks to the artificial intelligence they use to generate these videos. This platform is characterized by turning PDF files into videos, with background music, presenters and much more.
Yepic.ai
Without the need to have a studio, actors or cameras, with Yepic you can create your videos using technology and artificial intelligence. Yepic.ai uses a very advanced script that will allow you to have a very professional video with high quality avatars and features.
Talking Avatar
It is a web-based tool with which you can create an avatar capable of narrating all the content you want. Want to narrate a video, but don't want to be in it? With Talking avatar you can do it with a few simple steps and without needing to be an AI expert.
Colossyan, Yepic and Talking Avatar are one of the best alternatives that you can see, since these three have enough features to be an option worth considering when you can't use GliaCloud.