Internet in some way since its creation has changed on an extremely large scale, what once were pages with extreme amounts of text and paragraphs, today we can see pages much more optimized and with more audiovisual content, which attracts many more people interested in the information it presents.
However, maintaining a website, portal or blog with high audiovisual content and also that it is of quality is not something so easy to manage and much less create videos at every moment. Fortunately, currently thanks to technological advances in artificial intelligence, we can find a variety of programs capable of analyzing a text and converting it into a video in a few minutes, as Hour One AI does, which we will be talking about and making you know its qualities and characteristics.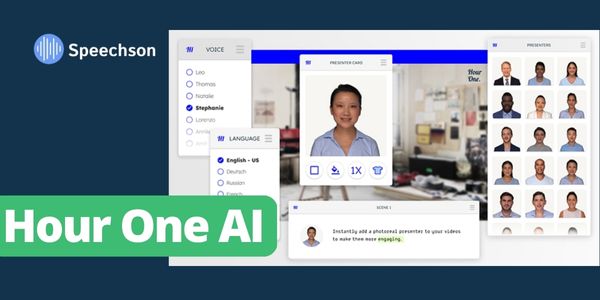 What is Hour One AI?
At this point you will be wondering what is this Hour One AI? Well, in a nutshell we can say that Hour One AI is nothing more than a company specialized in artificial intelligence with the purpose of developing virtual humans to be used in videos without the need to go to a particular person, since the characters created by the same program are based on real humans, which through the same program you can animate according to the expressions you need for the text to be converted into video.
How does Hour One AI work?
If you want to make use of Hour One AI you will realize that it is not complicated to develop or use, since with just 3 steps you can have a very well-developed video, in addition to an excellent quality in it.
This program works through algorithms that give life to an image of a person, that is, it gives movement and expressions that any person who looks at it can believe that it is a real person doing the narration of the video or presentation and not an artificial human.
How to create videos with Hour One AI?
Creating video with Hour One AI is very simple and can be done in just 3 steps, the first of them is to select a video template and design, in this step the same program will show you some of the available templates and designs, it will be up to the user to select the most suitable for what he needs.
From the selection of the template, he would continue with the selection of the avatar or artificial human that you want to make the presentation, in addition to the voice that you want it to have. Once the template, avatar and voice selection is complete, just enter the content you want to be presented by the virtual human and press create video.
At this point everything is left to Hour One AI which will give the animation and in a few minutes you will get a totally original video and with an exceptional quality.
Hour One AI Price
As for the price, Hour One AI presents on its official website a free trial which you can obtain with just registering, however, when the free service expires you can continue using its services by paying the price established according to the functions you use in each of the presentations or video creation.
Hour One AI Reviews
No matter how much you want to find something negative about Hour One AI, you won't find it, since the company has been dedicated for a long time to develop its artificial intelligence system in an almost perfect way, leaving each client very satisfied with the results obtained when creating a video with virtual presenters.
Over time, companies such as Alice, Cameo, NBC Universal, among others that have used the artificial intelligence service of Hour One AI have shown a complete success in the creation of video, which puts the quality of the program very high.
Alternatives to Hour One AI
It should be noted that, although this AI system presented by Hour One AI, very few companies manage to reach such a magnificent job, however, there are alternatives that can be very useful to know them.
Elai.io
This application is an excellent alternative when looking for a program to create presentations using artificial intelligence, since it has tools that will allow you to make presentations in video format in a few minutes with a professional finish, and even with presenters created with AI.
Movio.la
It is one of the platforms that has taken a great leap in the field of technology and artificial intelligence, in them, you can take your texts to voice in a few minutes and even text to a totally professional video, include images, audio and many more in a very organized and easy to understand interface.
Invideo
It is one of the best options when it comes to creating, editing and sharing videos, thanks to its online services offering totally professional tools, as well as a wide variety of templates and content free of copyright to use them in your presentations and projects.
Yepic
Without having a studio, actors or cameras, with Yepic you can create your videos using technology and artificial intelligence. Yepic.ai uses a very advanced script that will allow you to have a very professional video with high quality avatars and functions.